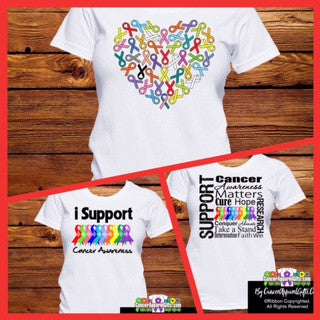 Awareness Matters
September is one of the biggest months for cancer awareness and we are listing the cancer causes recognized during the month of September at the end of this post. As a two-time Lymphoma cancer survivor, I pay close attention to the upcoming months recognizing an array of cancers because it is a personal matter to me. I know it is also an important matter for my customers affected by cancer.  
We would like to showcase our beautiful, colorful awareness ribbon shirt shaped into a heart to support all cancer causes.  Ideal to wear in September to support the many causes being recognized. Click on the t-shirt image below to view/shop.
 The causes recognized in September are:
Blood Cancer Awareness Month

Childhood Cancer Awareness Month

Hodgkin's Lymphoma Awareness Month
Leukemia Awareness Month

Lymphoma Awareness Month

Multiple Myeloma Awareness Month

Non-Hodgkin's Lymphoma Awareness Month

Ovarian Cancer Awareness Month

Prostate Cancer Awareness Month

Thyroid Cancer Awareness Month
More Colorful Awareness Ribbon Shirts here. Our awareness month calendar can be found here.